New Year Marketing – Part Two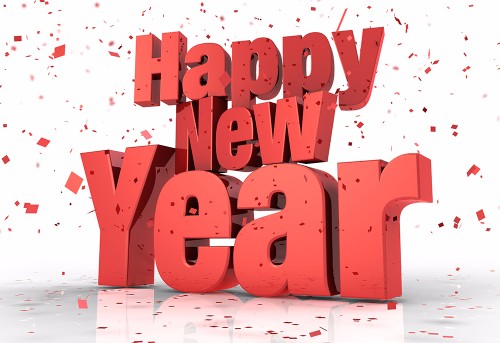 HAPPY NEW YEAR!!
Okay, so it's January 27, perhaps a little late to wish you a Happy New Year. But really, the year has just started and I do hope you have a terrific 2016, filled with success and joy. So, Happy New Year!!!!!
Our email newsletter on January 13 indicated that we would be offering a couple of ideas to help you increase the success of your marketing plans and programs. Idea #1 was this – verify and clean your lists. If you missed that message, pleaseCLICK HERE to read.
Keeping a database clean and verified is hard, but necessary work. We're currently working to update our lists. It's not easy and it takes time. Remember the old computer science acronym – GIGO? Garbage In, Garbage Out. It's a term from the early days of computers, which "since they operate by logical processes, will unquestioningly process unintended, even nonsensical, input data (garbage in) and produce undesired, often nonsensical, output (garbage out)." GIGO. There is certainly a marketing analogy — bad data = wasted money.
Let's now take a look at ideas 2 and 3.
Idea #2 – Have A Plan For Your Message(s)
Analyze who you are targeting and why. Once you've done this, it's easier to develop relevant content to answer these questions and help your messaging resonate with prospects.
1. Think about the situation or occasion.
The context of your communication makes a difference both in the way you engage with others and in the way they interpret your communication. Remember that time and place matter. A joke that would be a hit with your friends may not be appropriate within an email to customers or prospects. Identify the level of formality. The message you wish to send on Veteran's Day will be very different than your April Fools' Day content!
2. Identify your goal.
Know the purpose of your interaction so you can adapt your communication effectively. For example, if you want to inform prospects about your capabilities, invite them to come to your place of business for a personal tour. If you are looking to move product or services, then a message containing information about specials is the way to go. And if you are looking to build on your relationships, messages that contain useful and helpful information are successful.
3. Know your audience.
To adapt your communication effectively, you need to understand who you are talking with. See things from their view and tailor your communication to them as much as possible. Acknowledge differences in personality and ensure that you tailor your message so as to engage all and alienate none. Think of the individuals who comprise your audience before you communicate with them. Ask yourself:
• Who is my audience?
• What do I want my audience to know or do?
• What do they already know?
• What does my audience want to achieve?
• What delivery method will support the message the best?
4. Consider the method of your communication.
Each method of communication has advantages and disadvantages. The limited character count of a Twitter tweet is a great way to broadcast a quick bit of news, while a longer email allows you to get to the heart of a topic. For print communication, you can think of a simple postcard as a tweet, while a brochure or flyer is more like the full email. When choosing, pick the method that would be most effective for your audience and work within its existing structure. Anticipate questions your audience may have and try to address those in your communication.
It's also important to take the time to listen. Give your customers and prospects the ability to communicate with you as well. Send surveys, build return links into emails, and offer them the ability to comment on, or review what you do. In building relationships, it's important that the communication goes both ways.
5. Watch your words.
Be intentional with the language you use. Words can help you quickly connect with someone, but they may also offend them. Choose words based on the age, education, and literacy level of the person(s) you are talking with. Use words they understand and can connect with. Don't get too technical. And don't be boring!
When engaging in social media, you can be more relaxed. Communication often occurs in one or two-sentence segments. Be casual, but concise. Email and text messaging require a conscious choice of words. Be direct. And remember to express tone through your words or the use of emoticons (smiley faces).
Idea #3 – Focus Your Approach
Once you know who you plan to target and why, the last step is to focus on the best way to communicate your message. It's important to note that marketing to an existing customer base has been proven to be more economical than marketing to an entirely new audience. With that in mind, it is recommended that you leverage your existing relationships with customers and promote up-sell and cross-sell opportunities where they can take advantage of product upgrades and enhanced services. Promote these different opportunities through a variety of different mediums, including direct mail, email, online and via customer oriented events.
When targeting prospects, the best use of a company's time and money is to produce an integrated marketing campaign that showcases consistent messaging and a recognizable look and feel across the many different campaign components from direct mail to email, advertising and more. Reaching prospects through multiple coordinated touch points helps solidify the company's message in the minds of prospects.
In Summary . . . 
Spend Your Time and Budget Wisely
It's easy to succumb to temptation and skip over these basic steps to try and execute a campaign on time when you have sales goals hanging over your head. However, a campaign that reaches the right target is always more successful than one that was launched on time, but was directed toward the wrong audience.
Please know that my team and I are ready to assist you in making 2016 a very successful year. That includes:
• Help in preparing or finalizing your marketing plan/calendar for 2016?
• Help with the creation of marketing materials?
• Help implementing an email program?
• Help with printing and mailing?
• Or, do you just want to kick some ideas around?